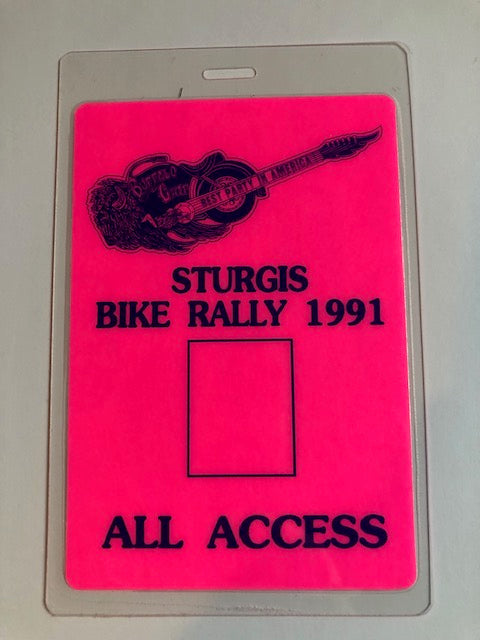 Special Event - Sturgis Bike Rally 1991 - Steppenwolf, Doobie Brothers, Charlie Daniels - **Super Rare Backstage Pass
Vintage large 5 1/2" tall OTTO laminated All-Access backstage pass from the Sturgis Motorcycle/Concert Festival in 1991. Sturgis is the largest motorcycle festival in the world, and also one of the largest music festivals. These are the only Sturgis music passes we have ever seen, and we suspect they might go for crazy prices on Ebay.
They glow in the dark under a blacklight. The pass is a DayGlo pink color and pictures a guitar with a buffalo head on the end.  It says "Buffalo Chip" and "Best Party in America" "Sturgis Bike Rally 1991" on it. August 7th must have been a wild concert. Can you imagine when Steppenwolf took the stage on August 7th and played the motorcycle Rally cry "Born to be Wild"? On other days, players were The Doobie Brothers, Rick Derringer, Kentucky Headhunters, and Charlie Daniels.  
These are in excellent unused condition.