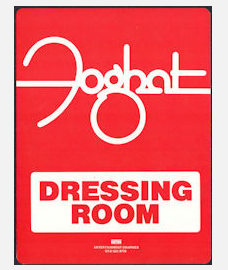 Foghat - Girls to Chat & Boys to Bunce Tour 1981 - 10 1/2" Dressing Room Door Sign - Backstage Pass ** Rare
Vintage 10 1/2" tall thin cardboard door sign. Marked "Foghat Dressing Room". These are signs from the 1981 "Girls to Chat & Boys to Bounce" tour. These are tour signs that were placed on Foghat's Dressing Room door. They have the OTTO markings on the front and look like a gigantic backstage pass. OTTO supplied bands with door signs, but few have survived.
Excellent unused condition.
There aren't many.