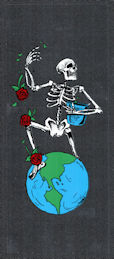 Grateful Dead - Car Window Sticker/Decal - Skeleton Throwing Roses onto the Earth
Vintage 8 1/2" tall Grateful Dead sticker/decal. These are high-quality art decals that were made for car windows. I peeled the cover off for the picture. They are in mint condition and can still be used. This one is from around the late 1980/90s with an artist signature Jeremy. It features a skeleton standing on the Earth with a bucket of roses, throwing some roses down to Earth.
These Grateful Dead stickers/decals are old tour merchandise. I found them wrapped in plastic in boxes in master cases. They came from a distributor who sold them to tour vendors. The condition is pristine and they still will work as a car decal or window/mirror sticker. We found them packed away in storage boxes dated 1992 (many are older than that) and 1995 (the year Jerry Garcia died). They are high-quality artist renderings of Grateful Dead themes. Back in the day, the Dead did not monitor copyrights and that sort of thing, and in fact, at one point encouraged artists to do designs. The LA times explained it well "The Grateful Dead was famously lax in enforcing its intellectual property rights and trademarks, allowing fans to create their own designs using the band's expansive iconography". Since there was no serious monitoring or much concern back then, a lot of up-and-coming artists got involved in designing them. This is how some of them got their starts. Some of the sticker artists who designed these stickers went on to produce officially licensed works for the Grateful Dead and other famous groups. These stickers include some now famous designers including David Opie, and others. These 1995 and older stickers are very hard to find anymore.