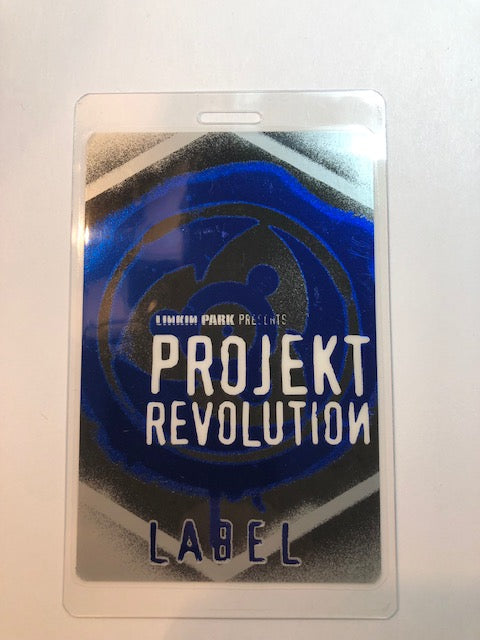 Linkin Park - Projekt Revolution Tour - Foil Backstage Pass
Vintage PERRi Linkin Park Projekt Revolution Tour Laminated Backstage Pass FOIL
One of my colleagues bought the lifetime collection of T-Bird and Perri backstage passes directly from Tony Perry who was the owner of the defunct PERRi and Thunderbird pass companies.  Tony had become a good friend to my colleague, but he unexpectedly passed away in early 2014.  It was a shocker.  He was running for mayor of Reno at the time, and it shocked that community, too.  His company, PERRi was the most innovative of the pass makers.  They made odd shapes and were the earliest users of foil and holograms (however, not all passes were odd-shaped, or used foil or holograms; some were simpler to keep cost down).  Their passes were the finest quality, and are much scarcer than the others because only the bands making the big bucks could afford them.
I now bring these passes to you, in what could be a once-in-a-lifetime offering.  The laminated passes were made in VERY small quantities, and as such are much harder to find than the standard "stick-on" variety backstage passes or even the OTTO laminated passes.  This is a ONE-TIME opportunity to own one of these passes -- when these are gone, we will most likely never see ANY more of them ever again, so don't pass up this opportunity to own some of the hardest-to-locate passes of our time.
These passes are guaranteed authentic and are in excellent, unused condition.